1/4/21 WATCHLIST + MARKET OUTLOOK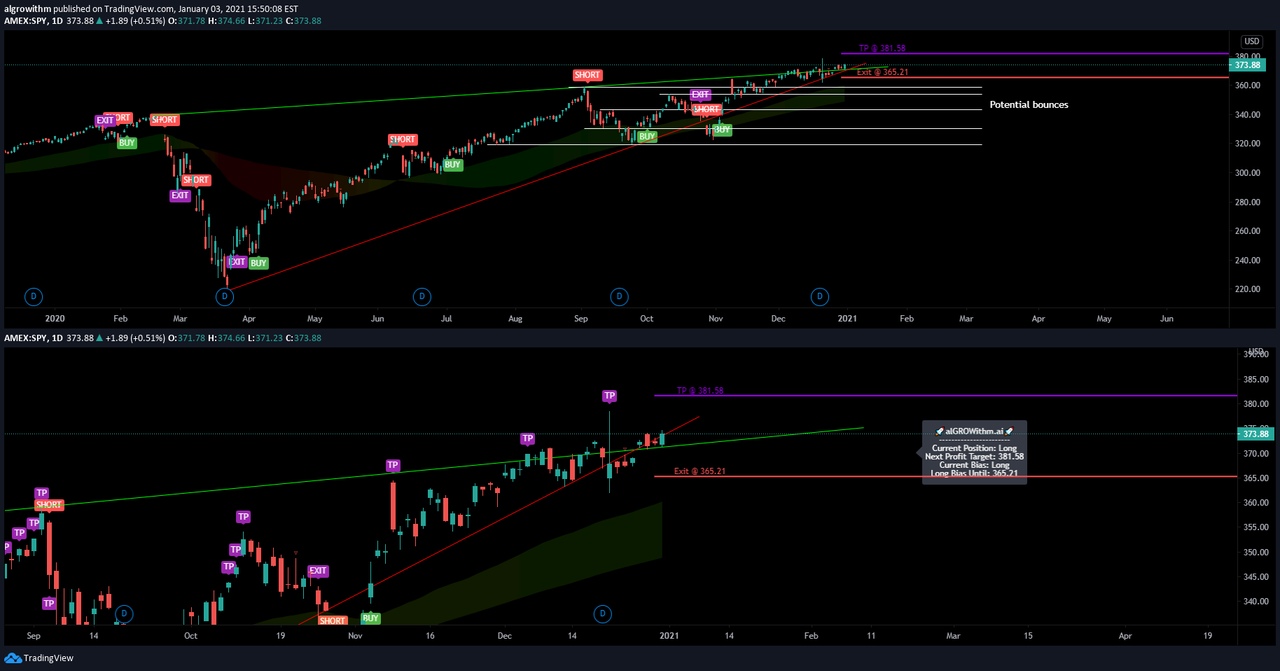 ** THIS IS PURELY OUR OPINION AND WE ARE NOT LIABLE FOR YOUR TRADING DECISIONS **
Happy New Year! Looking forward to the first trading session of 2021. Let's get to it!
If you've followed our analyses on TradingView, you'll know that we have been very bullish in the short-term, and that we believe we are about to experience (or in the midst of experiencing) the last phase of any bull cycle - a blow-off top. You can see in the image above that we've had this strong support line (red) since the coronavirus low. On Thursday, we closed above the major resistance (green trendline - which has actually now turned into support). This is a very bullish signal. As long as the red support line holds, we will maintain a bullish bias.
However, the market doesn't care about our opinion and will do what it wants. So we will trade the price action we see!
WATCHLIST
Note that these levels are for intraday options/equity trades. These are not swing levels.
MU calls over 75.70
TIGR calls over 8.5
SHOP puts under 1128
SQ puts under 214.25
COST calls over 377.45
PYPL calls over 235
ROKU puts under 330.75
TSLA calls over 720
WKHS puts under 19.7
ZM puts under 336
Lastly, the alGROWithm flashed a BUY signal on the daily chart of GLD on Thursday. We took the signal and opened a position. We will likely add to the position tomorrow with a break of the next TP.
Have a great week of trading!