Zeal Algo Setup & Usage
Getting Started with Zeal Algo
In order to use the alGROWithm indicator, you will need at least a FREE TradingView account. If you do not have one, you can use this link to sign up.
When purchasing alGROWithm, be sure to provide your correct TradingView username in the shopping cart prior to completing your purchase. Our team will grant you access to the indicator generally within an hour after purchase. If you do not have access after 6 hours of purchasing please email us at algrowithm.ai@gmail.com.
Once you have been granted access to the alGROWithm indicator, you will be able to add it to your TradingView charts by following the steps below:
1. Open any chart, and click the "Indicators" button at the top:


2. Type "algrowithm" in the search bar at the top of the popup window that appears. Then, click on the "alGROWithm" option that appears on the right.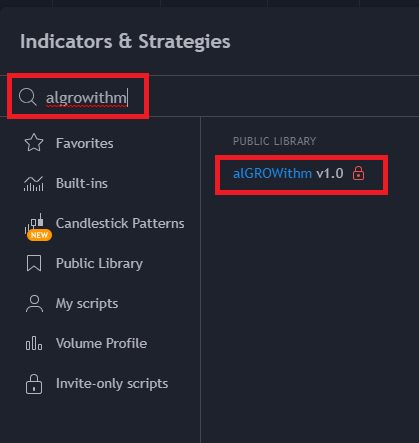 That's it - your chart will now display the alGROWithm indicator!
Unlike some "stock market gurus" out there, we don't want to promise massive unrealistic returns. There does not exist a magical indicator or algorithm that will effortlessly make you endless amounts of money.
Our team personally uses alGROWithm every day and has seen incredible success with it. The amount of money you make or lose is entirely up to you and we are not liable for your trading decisions.
It is highly recommended to start out using higher timeframes with alGROWithm for practice. Intraday charts can be noisy and requires experience to trade those timeframes.
When an update is released to the alGROWithm indicator, you will receive an email notifying you. In order to update the indicator, you simply need to remove the indicator from your chart, and re-add it. You can remove the indicator from your chart by hovering over the indicator name in the top left of the chart, and click the X button:

How to use Zeal Algo
The alGROWithm indicator displays entries, take profits, and exits directly on your chart, and works on any timeframe and any asset class.
To watch a video of the alGROWithm indicator in action, go to this YouTube video. For a step-by-step walkthrough, read on!
Let's look at the 5-minute chart for BABA on 12/17.
1. At 1:15pm, we exited a SHORT position we were in. At this point we are not in any position. As you can see in the chart below, the alGROWithm indicator tells you the next entry level to watch for - in this case, it is a BUY at $262.73:
2. The next three 5-minute candles came very close to closing above our entry level, but did not end up doing so. At this point we are still not in any position:
3. On the next 5 minute candle, the price crossed our BUY level. We are now in a LONG position, and you can immediately see your trading plan on the chart in front of you. We will be TAKING PROFIT at $263.20, or we will EXIT the trade for a small loss at $261.61:
4. On the next candle, our first TAKE PROFIT level was hit, so we see a purple "TP" label on that candle. Our next TAKE PROFIT level is immediately shown on the chart, and our EXIT level is updated.
5. At 3:30pm EST, we had a 5-minute candle drop beneath our EXIT level. However, it did not close underneath our level, so we remained in the trade.
6. If you are using a timeframe smaller than 1 day, you will see an EXIT signal on the last candle within a trading session if you are in a position. Our intraday signals are not meant for swing trading - we recommend using signals from a higher timeframe if your trading style is to hold assets for longer than a day.
The alGROWithm indicator provides TAKE PROFIT levels until the EXIT level is hit (or until the last candle of an intraday chart). As every investor's risk profile is different, you should take into consideration your own risk management and exit your entire position at your own discretion. One popular strategy is to sell 70-80% of your position at the first TP, and let the rest ride until the next TP. However, it is very important to define your own risk profile and exit your positions accordingly.
alGROWithm displays a few different items directly on your chart while maintaining a very clean user experience. You can change any of the settings by hovering over the indicator name in the top left of the chart, and clicking this icon:

By default, the following settings are enabled:
Sensitivity

alGROWithm allows you to set your own sensitivity settings. Play around with the settings and do some back-testing on different timeframes to see which settings work for you. We prefer a setting of 20 or 25.

Lower number = tighter exit/stop loss levels and more signals
Higher number = more lenient exit/stop loss levels and less signals

Dashboard: This is a dashboard that is displayed to the right of the latest candle, and contains the following information. You can move the dashboard left and right by changing the Dashboard X Position value.

Current Position

"Long", "Short", or "None"

Next Profit Target (Only displays if a Buy or Short was signaled)
Current Bias (alGROWithm computes a directional bias based on recent historical prices)
Long/Short Bias Until (alGROWithm's bias will change if this price is hit)

Note that these are not BUY or SELL levels - this simply indicates whether things are looking up or down

Enter Short/Long at (Only displays if Current Position = "None")

Trend Cloud

Trend Cloud is an extremely useful way to understand the general trend of the underlying asset at a quick glance. A green cloud means it's in an uptrend, and a red cloud means it's in a downtrend. The width of the cloud gives you information about strength of the trend (wide = strong). Read our blog post for more tips on how to effectively use the Trend Cloud

Show Trading Plan Lines

These are the Buy/Short/Take Profit/Exit lines plotted on the chart

Show Long Signals

These are the green "BUY" labels that appear on the chart

Show Short Signals

These are the red "SHORT" labels that appear on the chart

Show Take Profit Signals

These are the purple "TP" labels that appear on the chart. By default, this is turned off to make sure your chart doesn't get over-cluttered. But feel free to enable this if preferred.

Show Exit/Stop Loss Signals

These are the purple "EXIT" labels that appear on the chart

Potential Reversal Arrows

These are the small triangles that appear above/below certain candles which help indicate that a reversal may be imminent.

Change Bar Coloring

Candles are colored to help even more with emotional trading. When in a Long position, candles are green; when in a short position, candles are red. This can be manually turned off in the settings, but highly recommended to ease the emotion that comes with seeing a big opposite colored candle that can trigger the "I SHOULD'VE STAYED IN!" emotional response.
It is strongly suggested to removed borders from your candles. You can do this by:

Right-click any candle on your TradingView chart
Click the "Symbol" tab
Click the "Appearance" tab
Ensure that "Borders" is unchecked
Note that you can enable/disable any of these settings on the settings screen.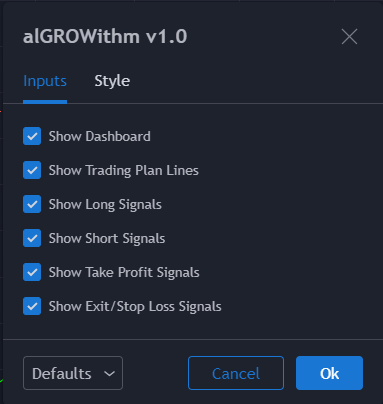 You can set alerts by hovering over the indicator in the top left of the chart, clicking the 3 dots, and then clicking the "Add alert" button:

Then, ensure that the alGROWithm indicator is set as the condition, and pick the alert you'd like to set from dropdown directly underneath.
To trigger the alert indefinitely and only on candle close, choose the "Once per bar close" option.
To trigger the alert indefinitely and once per candle, choose the "Once per bar" option. Note that this option will trigger unconfirmed signals, since alGROWithm signals are only confirmed once the bar closes. We use this option so that we are notified of the signal and then open the chart to decide if we want to take the trade.
Lastly, click "Create."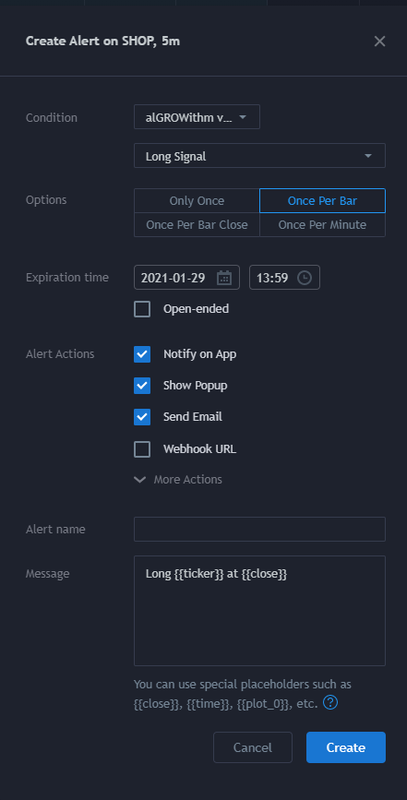 The alGROWithm Strategy Tester is a supplement to the alGROWithm indicator. Use this strategy to do your own back-testing and find the best sensitivity settings that work for your asset of choice!
WHY THIS IS IMPORTANT
Different assets require different settings for optimal results. This strategy script will allow you back-test different settings for alGROWithm in order to analyze key metrics such as win rate and P/L. TradingView functionality also enables you to view a high level performance summary and even see every single individual trade made by the algo.
After adding the Strategy Tester to your chart. You should see a panel which will look something like the image below. To test different settings, click on the gear icon (squared in red below), change the sensitivity level, and use the panel to find the optimal settings!

BEST PRACTICES
Depending on the asset you are testing, it is very important to update the settings as needed. For example, if you are back testing on US30, you will likely need to increase the starting capital. For other assets such as ES, you may also need to change the order size to use the Contracts option.
It is important to decide for yourself which back testing parameter you will weigh more heavily in terms of importance. For example, a day trader may want to use a setting that maximizes win rate rather than profit % since we are humans and not computers. Further, it is highly recommended to utilize all of the rich features that TradingView provides with regards to back testing. For example, using the List of Trades tab, go back to find a failed trade and analyze the trade to see if you actually would have taken it in the moment.
After finding the best sensitivity for your asset, it is important to set that sensitivity value on the non-strategy version of alGROWithm for usage. Changing settings on this version will not carry over to the non-strategy version.
DEFAULT SETTINGS
We have set the following default settings on the strategy:
Starting capital: $100k
Order size: 30% of equity
Sell 1/5 of position every Take Profit level